17th January 2022
How driving down the costs of running your small DB scheme could pay off your deficit
The rising costs of running smaller defined benefit (DB) schemes are an increasing problem for scheme sponsors.
Smaller schemes face higher running costs, compared with their larger counterparts, because they struggle to find economies of scale against a backdrop of escalating fund management and custody fees.
 Typically, the costs per member increases as the size of scheme reduces which is largely due to many fixed costs for administration or meeting legislation that never change.
As all closed schemes are reducing in size as people die, increasing costs is a common theme across all schemes as illustrated in the graph below.  This means that in a scheme with 100 members, costs often exceed £1,000 per year, per member.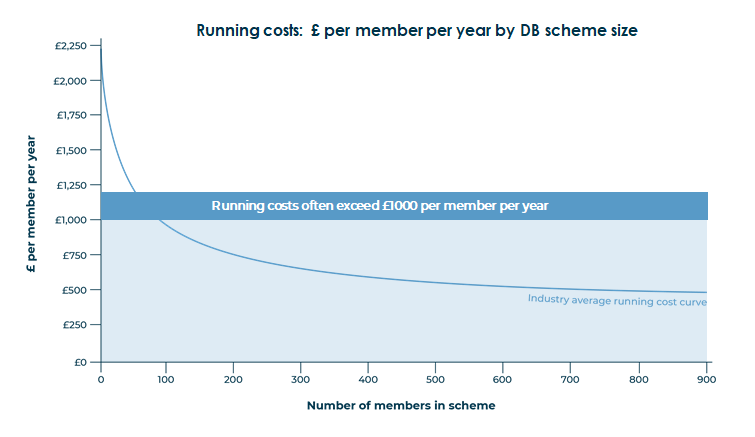 But running costs are not the end of the story.  There are also increasing demands on companies to fund the pensions within DB schemes, many of which are in deficit.  But how can costs be reduced, and by how much?
Companies are often not aware of the exact cost of running their pension scheme, but it is important for scheme sponsors to focus on this and here's one good reason why. If it costs £1,200 per member, per year to run a scheme and the member remains in the scheme for the next 30 years, this will result in a £36,000 bill, just to pay that person's pension.
Now let's look at the deficit position.  Research by XPS cited recently by Pensions Age estimated that the average pension scheme will need an additional £29,000 of funding top up per member to ensure it can pay their pensions into the long term. And this is on top of the £36,000 needed just to administer paying the benefit.
But what if you could reduce the £36,000 running cost bill to pay the £29,000 funding bill?
Employers in the Stoneport Pension Scheme pay around £200 per member per year in running costs, which equates to just £4,600 per member over the time until the scheme plans to buy out in 2045.
So, within Stoneport the total costs of providing for and running a small DB pension could be reduced by over £30k, which could go a long way to paying off the deficit.
At Stoneport we are keen to speak to any schemes with under 1,000 members, with a strong covenant who would like to explore reducing their costs. For more info contact joining@stoneport.co.uk