Stoneport is for smaller defined benefit schemes who are looking to take effective action to dramatically reduce their costs, whilst materially enhancing the benefit security and outcomes for their members.
At its heart, Stoneport is a defined benefit pension scheme, like those who will join it. The difference is, Stoneport has been purpose-built to solve the big challenge facing the trustees and employers of smaller schemes – to make a real difference to the cost and governance burden, and ensure members receive the benefits they're entitled to.
If you're the employer or a trustee to a UK defined benefit pension scheme with up to 1,000 members, Stoneport could transform your pensions perspective.
Stoneport can bring transformational cost savings for employers – significantly more than current DB Master Trusts can offer – alongside dramatic security and governance enhancements for members.
The Punter Southall Group is proud to be the first employer to join Stoneport, demonstrating its commitment to Stoneport, and to changing the pensions landscape for members, trustees, and employers of smaller schemes alike.
Only the schemes meeting Stoneport's entry criteria will be able to join and reap the benefit it can bring.
Complete our checklist to find out if your scheme is eligible.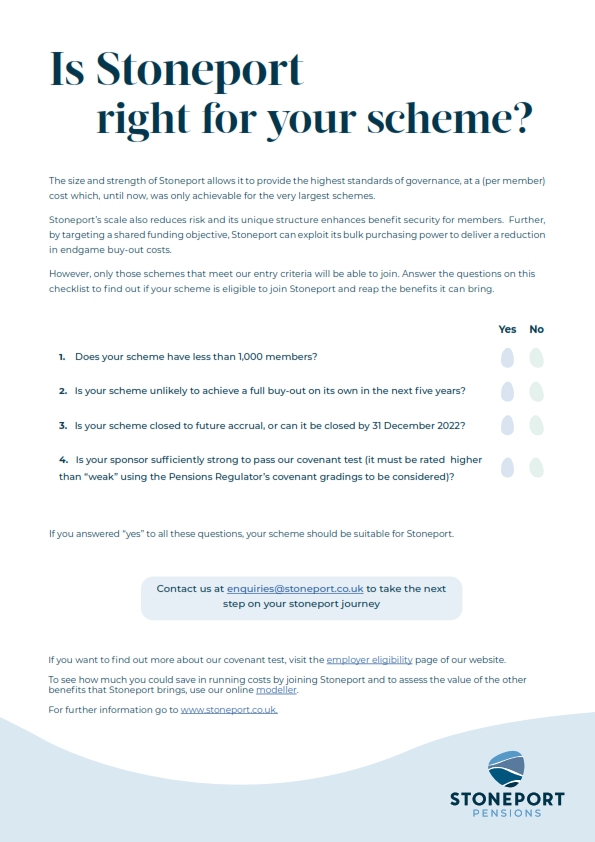 Checklist: Is Stoneport right for your scheme?
View & download
Our checklist is designed to help trustees, employers and their advisors quickly assess whether their scheme meets Stoneport's entry criteria and will be eligible to join.