Stoneport is for the trustees and employers of smaller defined benefit pension schemes looking to take effective and conclusive action now, addressing the significant cost and risk challenges these schemes face.
By cutting running costs, enhancing members' benefit security and improving governance, Stoneport transforms outcomes and has instinctive appeal for trustees and employers alike.
With fewer than 1,000 members
Stoneport has been purpose-built to address the issues and needs faced by smaller schemes. If your scheme has fewer than 1,000 members, Stoneport can make a positive difference.
Who are strong enough to provide appropriate support to their members
To protect the interests of all employers and ensure fairness between those who join, Stoneport has strict entry criteria to confirm each employer is willing and able to provide appropriate support for their pension scheme commitments.
Are not looking to buy-out in the next 5 years
Stoneport is designed for those schemes and their employers who have a longer-term goal in mind for meeting their pension commitments. Stoneport will run-off members' benefits over the next 25 years, targeting an insured buy-out of the remaining commitments in 2046. If your scheme is close to achieving full funding of an insured buy-out or aiming to achieve this within the next few years, Stoneport is less likely to be suitable for your scheme.
Recognise the benefits Stoneport can bring
Stoneport can bring very significant cost savings, alongside dramatic security and governance enhancements for members. To realise these benefits, schemes must be willing to invest in the work necessary to join Stoneport. We have streamlined this process to make it as easy and straightforward as possible for schemes to join.
Stoneport has been purpose built to appeal to the widest possible range of smaller defined benefit pension schemes.
The following documents explain why Stoneport should be an appropriate choice for any smaller scheme that doesn't expect to buy-out within the next five years.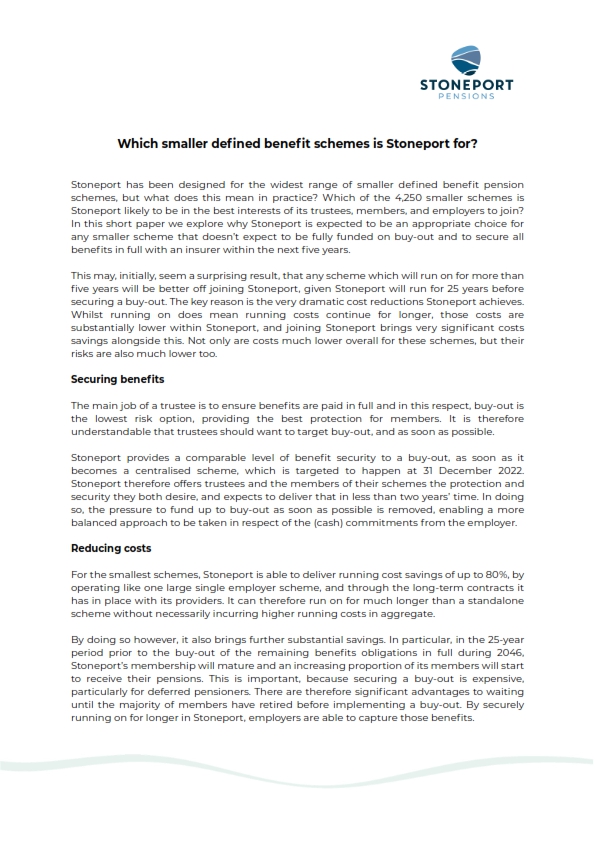 Which smaller defined benefit schemes is Stoneport for?
View & download
Targeted at employers, this short note explains how by improving benefit security, Stoneport removes the pressure to fund to buy-out, to deliver significant cost and risk reduction benefits.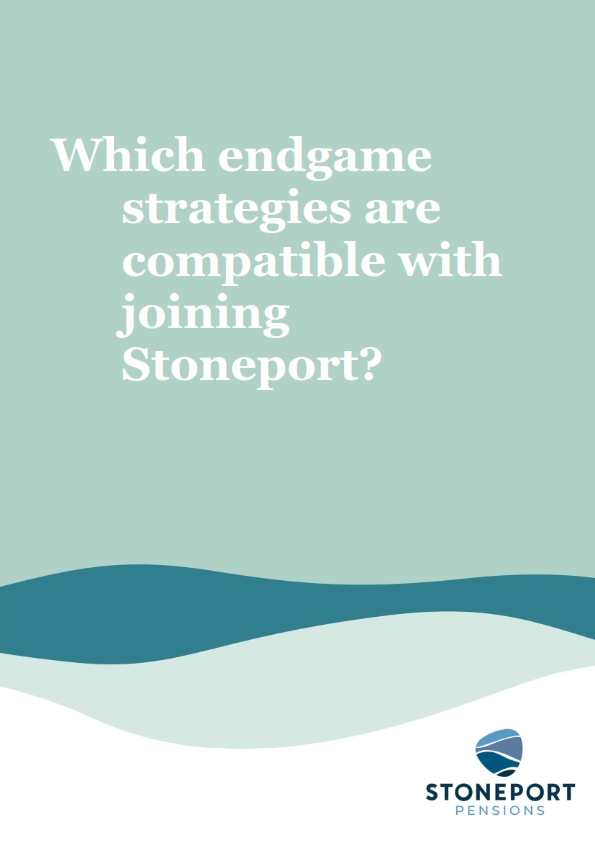 Which endgame strategies are compatible with joining Stoneport?
View & download
This report aims to help trustees, employers and their advisors to understand the wide range of endgame strategies that are compatible with joining Stoneport.